Each True-Fit® Inground Liner combines our custom fit measure with the best materials available for years of lasting beauty for your pool. Our manufacturers use only 100% Virgin Vinyl infused with algae inhibitors and U.V. Protection. Now available for in-ground pools only, The Pool Shoppe is proud to introduce

Technology to our Replacement Liner Program. This exclusive process makes floor seams stronger and virtually invisible! All at no additional charge!

technology elevates our liners to an entirely new category so there's nothing that gets in the way of the picture perfect beauty of your pool.
Visit The Pool Shoppe to learn more about your liner replacement. Our knowledgeable sales team will spend as much time as you need to explain all of the current products available as well as the steps involved in the liner replacement process. Ask us about our Exclusive Inground Warranty – only available at The Pool Shoppe!
Kafko™ True-Fit® Inground Vinyl Swimming Pool Liners are the Best Fitting Pool Liner available: It's that simple! Kafko™ has developed, refined and improved its design and manufacturing process and specifications to tailor fit both New and Replacement Inground Vinyl Pool Liners. Using the measurements provided by our Liner Installation Team, Kafko's Engineering Department applies the True Fit Formula to design and manufacture a precision form fit liner. Kafko™ True-Fit Pool Liners are computer designed and manufactured in their own facilities under strict Quality Control Procedures, ensuring an exact fit, the best fit: A Kafko™ True-Fit® Vinyl Liner.
True-Fit® Vinyl Liner Features:
Custom Measured, Designed and Manufactured
100% Virgin Vinyl
Technology
Equipped with algae inhibitors, which aid normal sanitizers to protect Kafko™ liners for a long life.
Manufactured with bleach resistant inks and UV inhibitors to protect against fading and sun damage.
Cold Crack Temperature Protection to -40°F
NEW for 2019!

Pearlescent Inks & Electric Blue Patterns

We are proud to offer new cutting edge designer liners for you to customize your pool, and express your individual style!

Pearlescent Inks designer patterns from our Pearlscape Collection feature iridescent inks introduced into traditional vinyl liners. These iridescent inks create a luminous shimmer and sparkle in your pool.

Electric Blue Base Film liners are manufactured using a proprietary fusion of HD pigments to create a vivid high definition colour underwater and when struck by sunlight.

Please note – Pearlscape Collection liners are subject to surcharge.
Need a Quote? Any Questions?
If it's not a Kafko™ it's not a True-Fit®
Many companies advertise a form fit vinyl liner, some may even refer to their liners as being "True Fit". Remember, genuine True Fit Liners are only available from Kafko™ and can be purchased through The Pool Shoppe or authorized Kafko™ Dealer.
Download Signature Series 2018 Selection
Pool Steps
Take your liner renovation one step further. If your pool was built without stairs, a liner replacement provides the perfect opportunity to add a vinyl covered steel step.
If your current swimming pool doesn't have a step but you've always wanted one, now is the time! Ask our Service Department what your options are based on your pool's existing design. Our wedding cake steps come in a variety of shapes and can be custom ordered and installed with almost any new liner. Don't let this opportunity pass you by.
Already own a set of tired walk-in stairs?
Consider a VM Flex Coat – a professional resurfacing procedure where you will never again deal with finish issues like chipping or peeling. Working with your existing steps or walk-outs, a flexible 4-layer coating is applied and designed to move with your steps to resist cracking.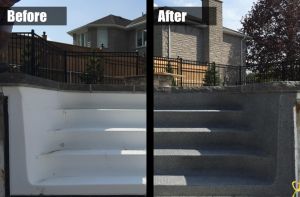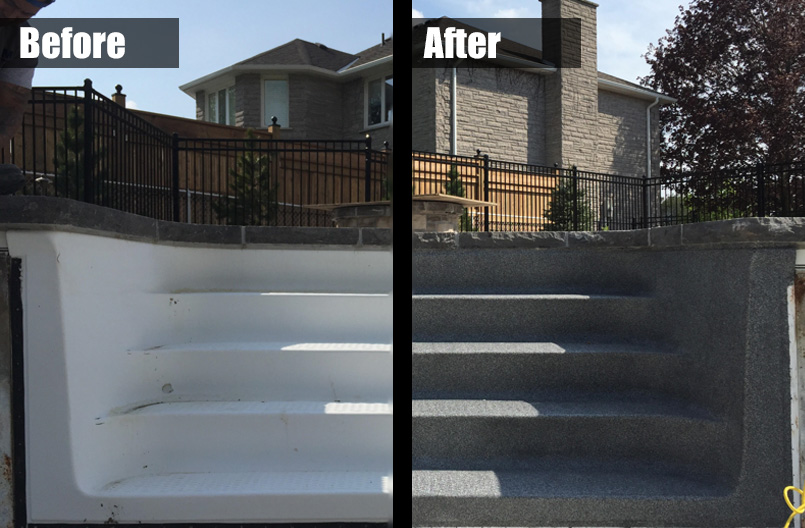 A high frequency molecular weld produces a seal stronger than the material itself!
MEGNA POOLS uses reliable and durable high-frequency molecular welds in the fabrication of all their pool liners. This process has been used in the industry for over 50 years and has proven to be the best and longest lasting method of sealing swimming pool vinyl.
You can have confidence that a MEGNA POOL liner is made to last!

Click the arrow buttons until you find your perfect tile and floor pattern match!
Need a Quote? Any Questions?