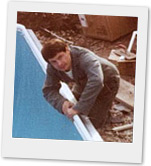 In 1968 Bob Simpson started servicing pools and never looked back.
With his attention to customer service and selling only quality products, the reputation of The Pool Shoppe both from the service and retail standpoint, have allowed our company to grow and succeed.
This, however, could have only been accomplished with the dedication and support of many long-time, professional employees, with their passion for providing outstanding customer service and their consistent attention to detail.
Each segment of our company, retail, service and construction, is always looking to grow our Family. The pride in workmanship shows through each and every finished project.
If this is the satisfaction you look for in your job, please contact us or apply online for seasonal/summer employment.
Employment Opportunities
Currently seeking applications for the following positions: