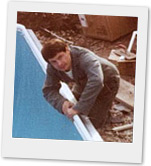 In 1968 Bob Simpson started servicing pools and never looked back.
With his attention to customer service and selling only quality products, the reputation of The Pool Shoppe both from the service and retail standpoint, have allowed our company to grow and succeed.
This, however, could have only been accomplished with the dedication and support of many long-time, professional employees, with their passion for providing outstanding customer service and their consistent attention to detail.
Each segment of our company, retail, service and construction, is always looking to grow our Family. The pride in workmanship shows through each and every finished project.
If this is the satisfaction you look for in your job, please contact us or apply online for seasonal/summer employment.
Employment Opportunities
Currently seeking applications for the following positions:
Closed Positions
Your Content Goes HereAs a team member, your top priority is customer satisfaction. You will receive incoming calls and enquiries to our Service Department as well as qualify the caller's service needs. You will work with our operating system to schedule and create an accurate work order for the crews you dispatch, data input service notes after the service is done and complete the payment process. You must be comfortable to converse with our Valued Service Customers with a pleasant disposition in a professional manner either on the telephone or in person. With training, you will learn to ask the probing questions and offer trouble-shooting advice to receive the information required to complete an accurate work order.
Our service department is seeking people to help finish off the pool season – September and October. The job will be minimum 40 hours per week – Monday – Saturday (weather permitting). Experience is helpful, however training will be provided. Job Types: Full-time, Temporary
As a team member, your top priority is customer satisfaction. You will be responsible to work in a team environment reflecting our company's professionalism as well as understand the seasonality of our business.
Your responsibilities will include using a discharge pump to lower the water level and vacuum the pool, pumping water and debris from winter covers, and removing the accessories such as pool ladders, lights and handrails. You may be moved in to other areas within the Service Group as the season progresses. This could include in the liner and construction segment or our business.
You would work with a Senior Technician to perform the steps necessary to winterize and close pools in the Fall Season.
A valid G or G2 driver's license and clean driving record is preferred; applicants can review their situation on a need-be basis.