How a Sand Filter Works
Sand is the oldest and most popular method of filtration. Sand filters share two things in common:
When in the filtration mode, water always flows from top to bottom
They all have some sort of lateral or underdrain with slots to hold back sand while allowing clean, filtered water to pass through.
High-rate sand filters use a special filter sand, normally .45 to .55 mm (also known as pool grade #20 silica sand), because it has sharp edges that separate particles, allowing filtration to take place. They operate on the basis of "depth" filtration where dirt is driven through the sand bed and trapped in the spaces between the sand particles. Initially, a clean sand bed removes larger particles, and then, as the bed starts to load up with dirt, the filter removes finer particles. The sand can be cleaned by backwashing which involves reversing water flow through the filter to the "waste" line. Sand Filters trap debris as small as 20 to 40 microns.
NEW! Minimize Filter Maintenance.
Save water. Save time!
A MultiCyclone pre-filtration device can cut 80% of the dirt that clogs a cartridge filter reducing the number of times the cartridge needs to be cleaned as well as replaced.
Pro™ Series Top-Mount Filters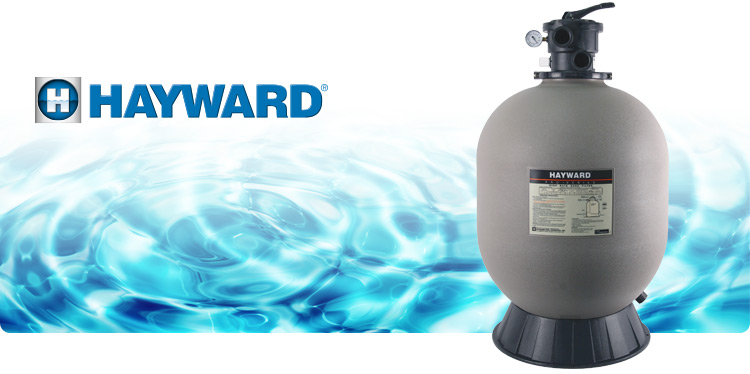 Providing you with quality you can trust, the Pro Series high-rate sand filters incorporate the latest pool filter technology to ensure your pool is operating at its very best. Moulded of durable, corrosion-proof reinforced thermoplastic, they feature attractive, unitized tank construction for years of trouble-free operation with only minimal care. Pro Series sets a new standard for performance, value and dependability.
Features
Flange Clamp Design allows 360° rotation of valve to simplify plumbing.

7 Position Hayward Vari-Flo control valve with easy-to-use lever-action handle lets you dial any of the valve/filter functions.
Integral sight glass lets you see when backwash cycle is completed.

Integral Top Diffuser ensures even distribution of water over the top of the sand media bed. Full-size internal piping gives a smooth, free-flowing performance.
Unitized, Corrosion-Proof Filter Tank moulded of tough, durable colourfast reinforced thermoplastic for dependable, all-weather performance with only minimal care.
Efficient, Multi-Lateral Underdrain Assembly with precision engineered, umbrella-fold, self-cleaning laterals for balanced flow and backwashing, plus easy serviceability.
Integral Moulded Drain Plug for easy draining of tank, without the loss of sand.
Totally Corrosion-Proof Base is rugged and attractively styled to provide strong, stable support.
Applications
Aboveground and Inground pools of all types and sizes
In-ground spas (residential or commercial)
Water features (fish ponds, fountains, water gardens)
Available Sizes
18″
21″
22″
24″
31″ (Special Order Only)
36″ (Special Order Only)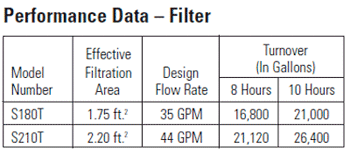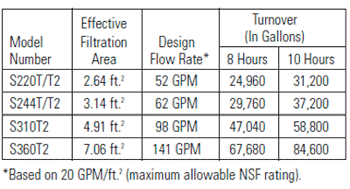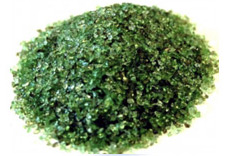 Kickin' it old school with New Technology!
Introducing Dr. Dryden's Activate Dual Grade Filter Media!
Activate was invented by Marine Biologist, Dr. Dryden. Activate is a permanent glass filter media designed to provide consumers with cleaner, healthier water. This activated permanent filter media, made from recycled glass, goes through a patented process of decontamination, sterilization, shaping and activation. The glass is non-porous and very hard; it will not physically break down, unlike sand.
Activate exceeds the performance of quartz and glass sand by filtering about 30% more organics, restraining the formation of biofilm. With lower running costs and better performance, less chlorine will be consumed while simultaneously reducing about 50% of disinfection by-products. Activate also sustainably controls heavy metals and metalloids, such as iron, arsenic and manganese. Activate is a lifetime media – no media change is necessary!

How does it work?
Due to negatively charged ions, Activate is more effective at attracting and capturing bacteria and algae, fundamentally preventing the formation of biofilm. As clean filtered water leaves the fine media, it picks up speed as it passes through the course media, ultimately increasing flow rate. The filter media itself has about 300 times more surface area than silica sand, making its filtration capabilities superior, resulting in clearer and healthier water.
Instructions
ACTIVATE comes in two different grades – COARSE (Grade 2) and FINE (Grade 1). Use ACTIVATE COARSE on the bottom of the filter and ACTIVATE FINE as a top layer. Once ACTIVATE is installed, back-wash the filter 3 times prior to use.
Dr. Dryden's ACTIVATE is provided in sealed bags ready for use. Follow the sand filter manufacturer's instructions for filing the filter with sand and follow the steps below to determine the right amount of Dr. Dryden's ACTIVATE for your filter.
Amount of filter sand needed per manufacturer's instructions
Number of bags needed of Dr. Dryden's ACTIVATE
Fine
Coarse
100 lbs
3
1
150 lbs
4
1
200 lbs
5
2
250 lbs
7
2
300 lbs
8
2
350 lbs
9
3
The Dr. Dryden story:
When sea mammals like dolphins, whales, or sea lions are kept in captivity, it is often in chlorinated water. Dr. Dryden worked with these mammals in like conditions for many years. He noticed they often die of lung infections at a young age.
He was able to prove that lung infections in mammals is due to harmful air they are breathing that is just above the surface of the water. This harmful air is what we call trichloramine which is the primary cause of chlorine odour that we smell in swimming pools.
Dr. Dryden invented an activated filter media called Activate. Using Activate helped save the lives of dolphins and other mammals by drastically reducing the formation of harmful trichloramines in chlorinated systems.