CELEBRITY SERIES
The Monaco
The Monaco accommodates a group of five. This throwback to the round hot tub days has a generous lounge with jets from neck to feet, two deep therapy seats with full-back therapy, and two bucket seats. With the convenient 120 volt plug-and-play system, you can locate it just about anywhere. Or, an optional 240V Performance Upgrade is available to enhance your therapy experience. The optional upgrade replaces the standard 120 GPM (454 LPM) pump with a higher flow rate 160 GPM (606 LPM) pump. In addition, it upgrades the minimum electrical service requirements to 240 volts and 30 amps, and is also compatible with 50 amp service.
| | |
| --- | --- |
| Seats | 5 Adults |
| Dimensions | 80″ dia x 36″ |
| Spa Volume | 250 US gallons (946 litres) |
| Total Jets | 23 |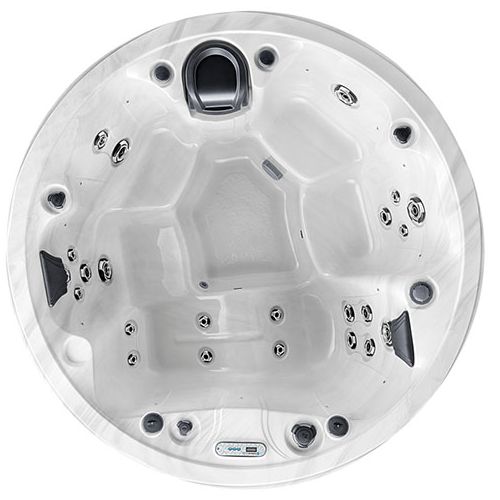 THE ULTIMATE HOT TUB EXPERIENCE!™
ConstantClean™ Water Management System
Who doesn't want clean water? ConstantClean allow you to have the ultimate hot tub experience, without the hassle!
US/CA ENERGY INFORMATION:
Monthly cost of operation:
$12.54*
*Based on $.109 per kW hour, 70° F / 21° C average temperature.
Electrical cost based on spa use of 30 minutes duration, three times per week; filtration time of two hours two times per day (24 hour period); one hour SmartClean™ setting. 240Volt, 30-50 amp. Ask your authorized dealer or local utility for the energy rate in your area. Your cost of operation will vary depending upon personal settings of the software, frequency of use and ambient temperatures.