How a Cartridge Filter Works
When water passes through a cartridge filter, dirt is screened out at the surface of the cartridge element. When clean, the element will trap larger particles, with finer particles being filtered out as the pores of the element become clogged by the larger debris.
Cartridge filters have a greater surface area than sand allowing for fewer clogs and easier maintenance. Cartridge filters are designed to run at lower pressure than sand which puts less back pressure on the pump, providing more flow and turnover. Cartridge filters should be cleaned once or twice a season by simply hosing them off. Cartridge element filters trap debris as small as 10 to 15 microns.
Hayward SwimClear™ Cartridge Filters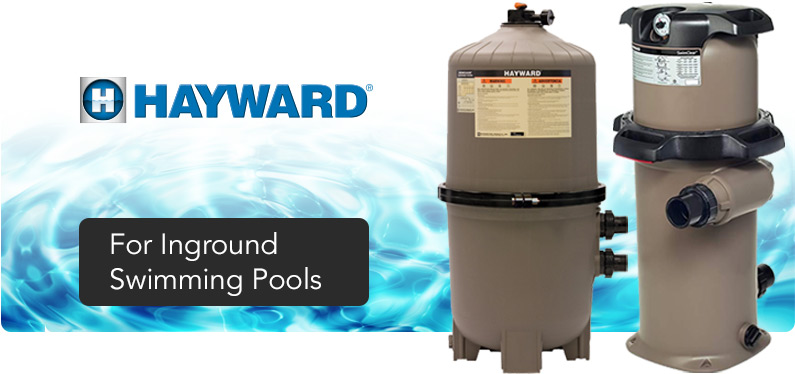 Single Element Cartridge Filters
New! For pools up to 55,000L
Item # C200S
For both new pool and aftermarket installations SwimClear™ single element cartridge filters capture more dirt for superior water clarity without the need of supplemental media or backwashing, while the industry's lowest head loss reduces energy costs. SwimClear™ is also the easiest to service: the Easy-Lok™ ring design, comfort grip handles, and lowest lift height provide fast cleaning and element replacement.
Features
Industry-leading hydraulic efficiency allows the pump to run at a lower speed or for less time, increasing energy savings
Easy-Lok™ ring design allows quick access to internal components for quick and simple maintenance
Recessed pressure gauge and manual air relief enables user to place head assembly upside down on pool pad, protecting the seal from contamination
2" x 2 1/2" union connections make installation and servicing fast and easy
Multi-Element Cartridge Filters
The SwimClear™ Filter provides a way to keep your pool crystal clear without pouring gallons of water into the environment. Its large-capacity cartridge means NO backwashing; instead, you just rinse the filter elements with your garden hose, saving you up to 2,500 gallons of water every season.
Choose from 225, 325, 425 or 525 square feet of heavy-duty, dirt-holding capacity for extra-long cleaning cycles; this can translate to up to an entire season without cleaning! Another energy-efficient benefit is that the SwimClear doesn't require a multi-port valve, thereby using less electricity.
Applications
In-ground pools
In-ground pool/spa combinations
In-ground spas (residential or commercial)
Features
Reinforced thermoplastic filter tanks made from extra durable glass reinforced co-polymer to meet the demands of the toughest applications and environmental conditions, including in-floor cleaning systems
Non-corrosive top closure plate prevents elements from lifting and allowing unfiltered water to by-pass into pool or spa during operation
2″ full-flow internal piping and plumbing for less resistance to flow and maximum performance
Quad-Cluster of high-quality reusable polyester cartridge elements provide 225, 325, 425 or square feet of filter area for extra dirt-holding capacity and long, filter cycles
Full size 1 1/2″ integral drain allows for fast, 100% clean-out and easier flushing of tank
Original Hayward Replacement Filter Elements
Hayward XStream Cartridge Filters
XStream size for an XStream Clean. The massive size and incredible performance mean years of trouble-free filtration. It has an extra large capacity for dirt and debris and a quick-release, high-capacity air relief valve. But size isn't the only thing this filter's big on. The XStream Filtration makes daily operation and servicing more convenient than ever before.
Features
Designed specifically for the rigors of above-ground filtration
Longer life – clean less often
Glass reinforced, non-corrosive PermaGlass XL filter tank will provide years of trouble-free operation