Whether we are installing or you are installing, The Pool Shoppe has everything you need for your replacement aboveground pool liner installation. Our aboveground pool liners are all made in Canada with quality far above our industry standards. If you would like more information regarding pool liner installation by The Pool Shoppe, please call or visit us at the store. Once you have booked your liner installation with us, our Service Department will arrange for your pool inspection, answer all of your questions and concerns as well as keep you informed of every step of the installation process.
If you plan on installing your own aboveground liner, there are a few things we need to know before we recommend a new liner for you.
*Only Available in Heavy Gauge
**Also Available in Heavy Gauge
Need a Quote? Any Questions?
Type of bead
Diameter or Length and Width Measurements
If the pool is oval, the length of the straight sides before they begin to curve
Pool Wall Height – top of wall or bead receptor to the bottom of the pool wall
Is there a dish in the centre? If so, maximum depth in centre of pool
Pool Perimeter
Pool Manufacturer
If your pool is an onground pool – heavy gauge galvanized steel wall structure, partially into the ground or fully above the ground, your pool may be eligible for more vinyl options depending on the wall height of your pool.
Please call or visit us at The Pool Shoppe for more information.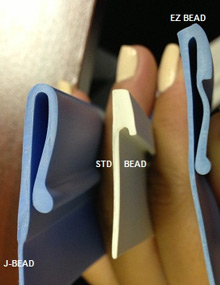 Bead Options Available: J-BEAD / STD BEAD / EZ BEAD
Liner Protection
Liner Guard
One of the keys to enjoying years of care-free fun is to ensure that your aboveground pool liner is safe from punctures. Screen base, roots or other sharp objects can work their way through your sand base and puncture the liner. Liner Guard, also known as Liner Pad or Pool Liner Felt, helps to protect your liner, cushioning it and creating a softer pool bottom.
Liner Guard provides constant protection:
Made of durable geotextile fabric allowing moisture to pass harmlessly through
Fits all standard pool sizes and shapes
It is mold and mildew resistant
Reduces vinyl staining
Easy installation
Fifteen year warranty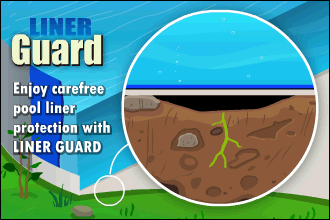 Liner Guard delivers the security and peace-of-mind you've been looking for. The benefits are clear and the product is proven. Protect your pool investment from the ground up with Liner Guard.
Come visit The Pool Shoppe for more styles and information regarding pool liners.