Customizable Table Markings
Customization is one of the things that sets Olhausen apart from the competition. Custom Table Markings are one of the easiest and most obvious ways to add that personal touch that truly makes your table one of a kind. For a very low cost, you can make your family's new Olhausen Billiard Table truly unique.
Sights
Choose from one of many popular, timeless sights. Black or Pearlized Plastic Sights, Diamond or Round, are available standard on every table. All other Round or Diamond Sights are available for a small upcharge.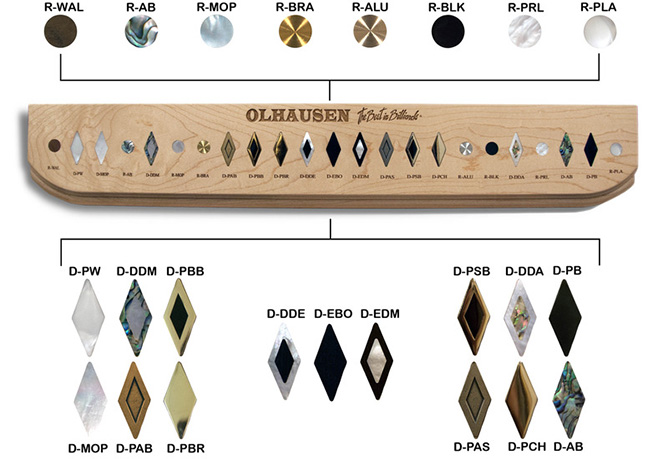 Laser Engraved Sights are also available.
---
Laser Engraved Sights
Choose from one of Olhausen's many selected options, OR provide Olhausen with your very own artwork! Olhausen will custom engrave ANY artwork you choose for the sights on your new Billiard Table.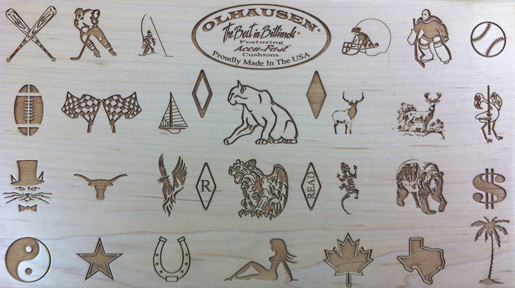 ---
Customizable Nameplates
Each Olhausen Billiard Table comes with the Olhausen logo, either laser engraved or on a brass or chrome nameplate. You can add your family's name (up to 18 characters), and brand that table as your own forever! With our famous quality construction, your family's new table will surely become an heirloom that remains in the family for years to come.
Custom Brass Nameplate: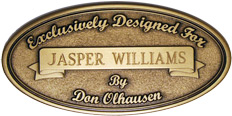 Laser Engraved Nameplate: