Ahh-Some Hot Tub/Jetted Bath Plumbing & Jet Cleaner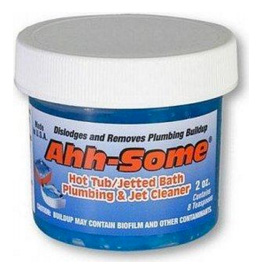 Why wait hours or days to perform a "Tub Cleanout"?
Ahh-Some does the job in 24 minutes! NOT 24 hours!
For water that is clean and crystal clear!
Ahh-Some Gel is a unique blend of next generation cleaners that work diligently to remove organics and particulates from surfaces and plumbing infrastructures that may cause unsightly and problematic situations. Adding them to your regular maintenance will provide water that is cleaner, clearer, and more satisfying to your skin. You may also benefit from using less chemicals in your hot tub.