Kickin' it old school with New Technology!
Introducing Dr. Dryden's Activate Dual Grade Filter Media!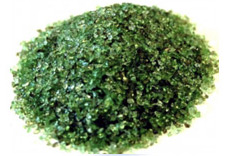 Activate was invented by Marine Biologist, Dr. Dryden. Activate is a permanent glass filter media designed to provide consumers with cleaner, healthier water. This activated permanent filter media, made from recycled glass, goes through a patented process of decontamination, sterilization, shaping and activation. The glass is non-porous and very hard; it will not physically break down, unlike sand.
Activate exceeds the performance of quartz and glass sand by filtering about 30% more organics, restraining the formation of biofilm. With lower running costs and better performance, less chlorine will be consumed while simultaneously reducing about 50% of disinfection by-products. Activate also sustainably controls heavy metals and metalloids, such as iron, arsenic and manganese. Activate is a lifetime media – no media change is necessary!

How does it work?
Due to negatively charged ions, Activate is more effective at attracting and capturing bacteria and algae, fundamentally preventing the formation of biofilm. As clean filtered water leaves the fine media, it picks up speed as it passes through the course media, ultimately increasing flow rate. The filter media itself has about 300 times more surface area than silica sand, making its filtration capabilities superior, resulting in clearer and healthier water.
Instructions
ACTIVATE comes in two different grades – COARSE (Grade 2) and FINE (Grade 1). Use ACTIVATE COARSE on the bottom of the filter and ACTIVATE FINE as a top layer. Once ACTIVATE is installed, back-wash the filter 3 times prior to use.
Dr. Dryden's ACTIVATE is provided in sealed bags ready for use. Follow the sand filter manufacturer's instructions for filing the filter with sand and follow the steps below to determine the right amount of Dr. Dryden's ACTIVATE for your filter.
Amount of filter sand needed per manufacturer's instructions
Number of bags needed of Dr. Dryden's ACTIVATE
Fine
Coarse
100 lbs
3
1
150 lbs
4
1
200 lbs
5
2
250 lbs
7
2
300 lbs
8
2
350 lbs
9
3