An Australian innovation, the MultiCyclone is a pre-filtration device, which is designed to capture up to 80% of the incoming dirt load prior to the main filter, which then significantly reduces filter maintenance and saves backwash water – not to mention improving water circulation. As the MultiCyclone intercepts more and more dirt, the flow rate remains unchanged.
The MultiCyclone operates by using centrifugal filtration; incoming water enters 12-16 hydrocyclones generating a strong centrifugal effect. This process draws the unfiltered water into its spinning chamber, which sends dirt particles down to the sediment chamber and clean water up towards the filter inlet. Accumulation of sediment can be visibly monitored through the MultiCyclone's clear sediment chamber which traps sediment particles between 10 to 100 microns.
A MultiCyclone can cut 80% of the dirt that clogs a cartridge filter reducing the number of times the cartridge needs to be cleaned as well as replaced. When paired with a sand filter, the MultiCyclone can eliminate backwashing by up to 40% saving water at the same time.
Only 15 litres of water is required to clean the MultiCyclone which is emptied by opening the purge valve. Water from the pool is used to rinse the chamber out into a bucket or via a drain hose.
Key Benefits:
Allows effective vacuuming without burdening the pool filter

Enhances the performance of automatic suction cleaners

Improves pool water circulation

Minimizes filter maintenance

Saves water

2 Year Parts Warranty/1 Year Labour Warranty
Optional Base for MultiCylclone 12 & 16: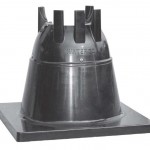 An optional mounting stand is available for situations where the MultiCyclone cannot be installed directly above your pool pump. Opening at the back allows for intake plumbing.