Solar Rollers for Inground Pools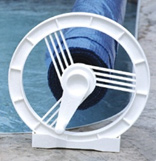 The Wheels Reel System features large 20″ wheels which easily roll over virtually any surface. These specially designed wheels, makes moving the reel system away from the pool effortless.
Designed to fit most in-ground pools 6′ 8″ to 24′ wide and up to 40′ long.
Each end is fitted with a handle so winding the solar blanket may be done from either side of the pool.
Rolls on any surface, with large wheels.
Wide track bearings for easy blanket handling.
Available with Silver Guard Finish or mill tubes.
BLANKET HANDLER PLUS REEL SYSTEM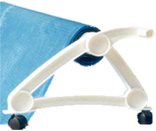 The Blanket Handler Plus Reel System is designed with many convenient features and is constructed for durability. The 'three way' end design makes the Blanket Handler the perfect fit for in-ground pools, and above ground pools with decking.
Built to fit in-ground pools that are 13'4″ to 20′ wide and up to 40′ long.
Unique three way design enables stationary placement, fence /wall mounting, or mobility with the included easy lock casters.
Easy lock casters provide stability.
Convenient handles on both ends.
Wide track bearings for easy blanket rolling.
LOW PROFILE IN-GROUND REEL SYSTEM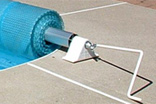 The Low Profile In-ground Reel System is engineered for placement under Diving Boards. The design solves many of the problems that limit the use of higher profile reels. The unique aspect of our Low Profile System is its capacity that will meet many residential Solar Reel needs.
Designed to fit rectangular pools 14'8′ to 20′ wide by 40′ long with up to 6″ radius corners.
Readily stores under diving boards with an existing 10″ of clearance.
A 40′ solar blanket rises about 8″ over the deck level.
Tubes are anodized with Silver Guard Finish to reduce tarnishing.
IMPORT SERIES –
Limited Quantities