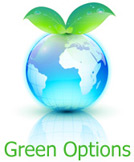 When considering a heat source for your pool, you only have to look up to realize the primary benefit of solar heat – it's free heat from the sun! With uncertainty and rising costs in the gas and power markets, the price for solar will not change. It will be free for life.
Using your existing pump and filter, our easy-to-install solar pool heater ensures warmer pool temperatures, no monthly heating bills, and is proven to be the most cost effective way to heat your pool. Get the most out of your pool by extending the swimming season and have more fun–courtesy of the sun!
Enersol Solar Pool Heaters are made for 'do-it-yourself' installation. With our easy to follow video and simple instruction manual, the system can be up and running in a weekend. No gas or electrical inspectors to deal with! It is so versatile it can be put anywhere the sun shines. The 'do-it-yourself' kit is easily installed on the roof of your home or pool change room, off the deck, beside the pool or on the ground. The most durable and longest lasting solar panels on the market, our Solarprene® rubber is completely resistant to pool chemicals, harsh U.V. rays, cold Canadian winters and the hottest Florida summers.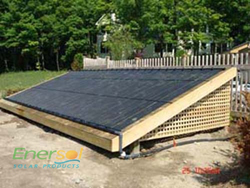 Enersol Solar Panels Also Protect Your Roof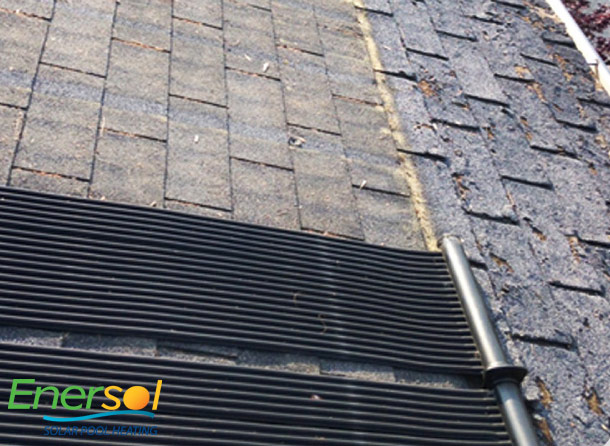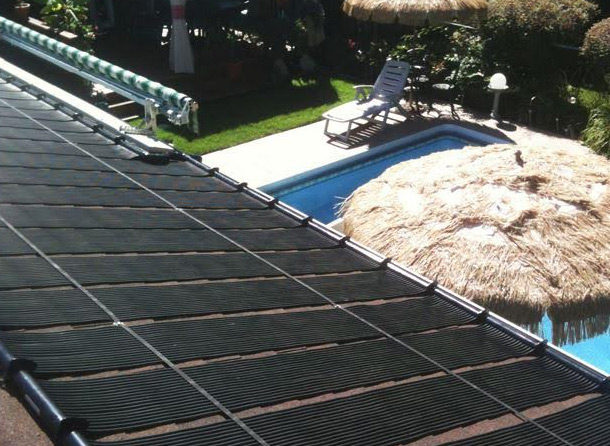 How It Works
Pool water is pumped using your exisiting pool pump to the Enersol Solar Pool Heater panels. The sun's rays heat the water in the panels, then the heated water is returned to your pool.
Warranty
Enersol Solar Products Inc.'s exclusive '18 Year Pro-rated Warranty' against defects in the solar collector panels, assures you many years of worry-free, low maintenance pool heating. When compared to natural gas or heat pump warranties, our solar warranty provides long term coverage and ultimately, peace of mind.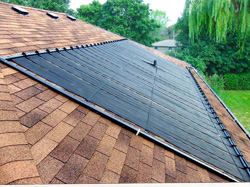 Sizing Guide and Installation Information
The number of solar panels required to increase the pool temperature approximately 10 – 15 Degrees Celsius above air temperature is dependent on the size of your pool. The table below indicates the number of solar panel boxes required for your size pool to achieve these results similar to that of a gas heater on a sunny day– so warm, you will need to turn them off! However, don't be discouraged if you cannot provide the surface area in the charts below. Most pools will achieve increased temperatures with only 2 or 3 kits. Enersol provides panel kits with either 4′ x 8′ systems (32 sq. ft) or 4′ x 10′ systems (40 sq. ft). Kits can then be connected together to increase your square footage and exposure to the sun. Custom length panels are also available by special order when necessary.
MORE DETAILS
Do you want more control over your solar system?
AquaSolar® gives you total solar system control with digital display of pool temperature and solar system temperature and full system diagnostic LED's.
MORE DETAILS
Frequently Asked Questions