How a Heat Pump Works
During heat pump operation, liquid Freon from inside the unit is pumped through the system (A) and is turned into a heated gas. This happens when heat is taken from the surrounding air (B) as it is drawn through the evaporator by the fan. The compressor (C) receives this warmer gas and it compresses it to a higher pressure, resulting in the Freon reaching even higher temperatures. As the unit sends the heated gas through the heat exchanger, the gas gives up its heat to the surrounding water (D). The Freon is then reverted to its liquid state which completes the cycle (A). The water (F), which is being forced through the heat exchanger (D) by your pool pump, is heated by three to five degrees as it passes through the heat exchanger. The water, now warmer, then flows back into your pool (G).
Hayward Heat Pumps for In Ground Pools
Summit Heat Pump
Description
Summit heat pumps offer excellent energy efficiency and industry-leading quiet operation. Locating plumbing connections on the back of the the unit for unobstructed access, makes installation fast and easy and a standard ultra-gold fin evaporator coil make it corrosion resistant – even in the harshest coastal environment. Summit delivers energy efficiency, superior value, performance and reliability.
Download Section

Heat Pump Sizing Guide
| Pool Size | Type | Capacity | Surface Area | Recommended Model |
| --- | --- | --- | --- | --- |
| 15, 18, 21 | A/G | Up to 40,000L | 177, 254, 346 | HP50B-HP65B |
| 24 | A/G | Up to 60,000L | 452 | HP50B - SUM5TAC |
| 27 | A/G | Up to 80,000L | 573 | SUM5TAC |
| 12x24 | A/G | Up to 40,000L | 288 | HP50B-HP65B |
| 15x30 | A/G | Up to 60,000L | 450 | HP50B - SUM5TAC |
| 18x36 | A/G | Up to 80,000L | 594 | SUM5TAC |
| 12x24 | I/G | Up to 40,000L | 288 | SUM5TAC |
| 14x28 | I/G | Up to 60,000L | 392 | SUM5TAC |
| 16x32 | I/G | Up to 80,000L | 512 | SUM5TAC |
| 18x36 | I/G | Up to 100,000L | 648 | SUM5TAC - SUM8TA |
| 20x40 | I/G | Up to 120,000L | 800 | SUM8TA |
** HPABG50A is the Aboveground Heat Pump Model which can be viewed from the Aboveground Heat Pump Section.
Specifications and Dimensions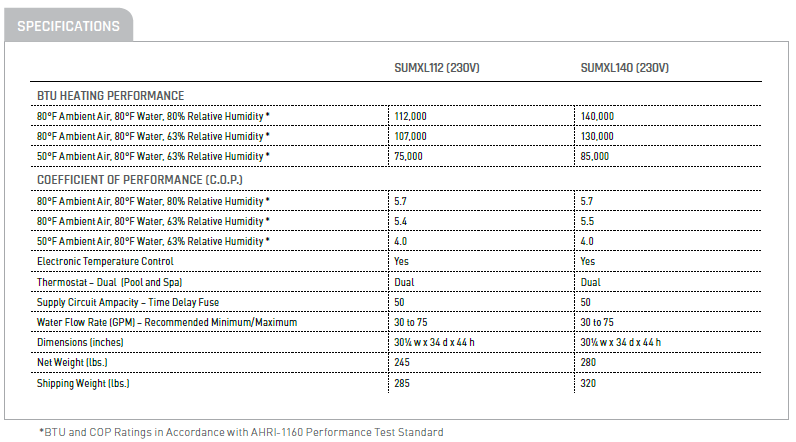 Features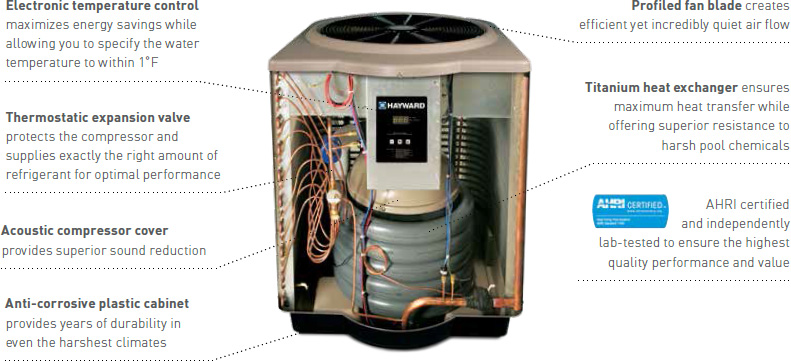 Quiet Performance
Installation
Heat Pump Installation Location:
The location of the heat pump is very important for efficient operation. In order of importance the installer must consider the following conditions:
Heat pump will perform more efficiently when placed in direct sunlight
Ample air intake
Avoidance of air recirculation
Accessibility of service panels
Means of draining condenser in freezing weather (such as union-style fittings)
Means of draining condenser and rainwater – insulation of long water lines (over 25ft.) from heater to pool
Additional Installation Information:
Clearance Around the Unit- There must be a minimum of 2ft from walls, shrubbery, equipment etc.
Clearance Above the Unit- Minimum 6ft
This unit must be hardwired by a licensed electrician
Consult the Owner's Manual and Installation Guide for specific installation information
**Installation of this unit in a fully enclosed area (ie garage, shed) is NOT recommended!
Hayward Heat Pumps for Aboveground Pools
Aboveground Heat Pumps – 50,000 to 65,000 BTU
Part # HP50B & HP65B
Description
Hayward's HP50B and HP65B heat pumps are the most efficient way to heat a pool up to 17,000 gallons. Hayward builds high performance, quality and reliability into every heat pump with a titanium heat exchanger, quiet operation and easy installation for years of swimming comfort. An electronic control maintains the desired comfort level while ensuring energy savings by maintaining the water temperature within 0.5 degrees. The exterior cabinet is injection molded of tough polypropylene for a lasting appearance that will not rust.
Application
For Aboveground Pools up to 17,000 Gallons. This heat pump is suitable for new installs and retrofit installations.
Specifications and Dimensions
Features
High Efficiency Titanium heat exchanger is highly durable and provides excellent resistance to corrosion
Digital keyboard allowing all operation parameters to be set and displayed on the control panel
On/Off programmable timer
Efficient rotary compressor and a low noise fan which guarantees its quiet operation
Profiled fan blade ensures higher air flow
A hot defrost valve enables the unit to operate at low ambient temperatures
Installation
Heat Pump Installation Location:
The