Deluxe Heater Packages Starting from $1429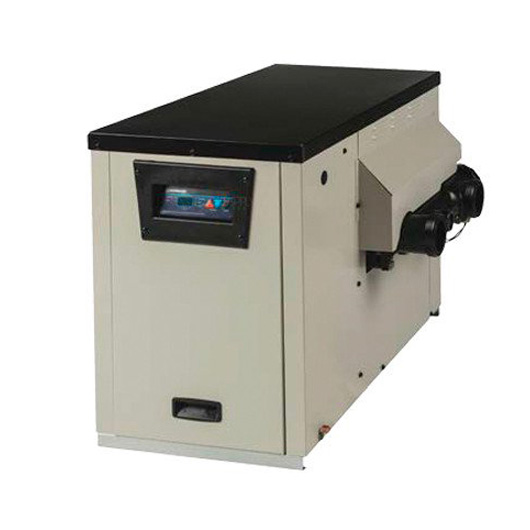 Aboveground Induced Draft – Natural Gas and Propane Models
No pilot light equals no hassle! Hayward has developed an induced draft heater for aboveground pools that combines state-of-the-art technology with ease of operation and superior performance. Featuring an intuitive electronic panel with digital thermostat and durable cupro-nickel heater exchanger, this Hayward heater provides 135,000 BTU input, while delivering 82% thermal efficiency and quick heating.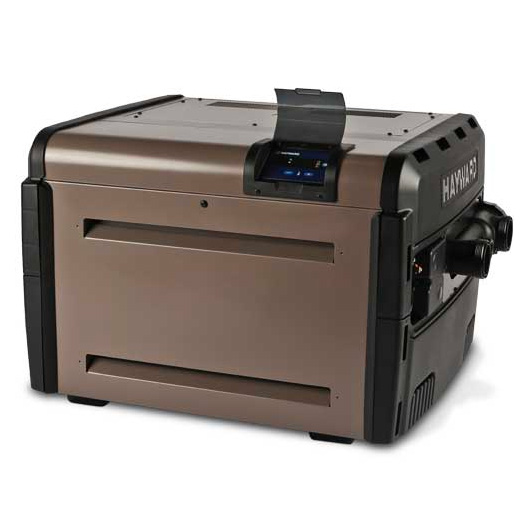 Forced Draft – Natural Gas and Propane Models
Universal H-Series Low NOx heaters have an industry-leading thermal efficiency making them a perfect choice for the environmentally concerned pool owner. The H-Series ignition system delivers dependable lighting and reliable operations with just a touch of a button. The forced draft system constantly moves air through the combustion chamber to eliminate all outside weather variables affecting heating performance, such as wind conditions and eliminates the need to install a high wind stack.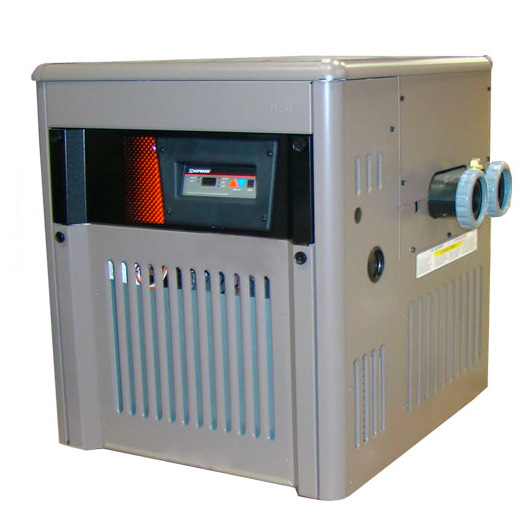 H150ED2 and H250ED2 Heaters – Propane and Natural Gas Models
As high in performance and efficiency as they are low in maintenance and cost. The advanced direct-spark technology and outstanding dependability of Hayward electronic H-Series heaters let you warm up your pool or spa and still keep your fuel costs down.
Electronic Ignition system ensures reliable lighting
Patented single header 'V' Baffle design heat exchangers allow for long life, fast heating and virtually no condensation.
All Hayward H-Series Heat exchangers are constructed with highly resilient Cupro Nickel for greater durability and resistance to salt water and chemical corrosion
Rust-resistant water path with polymer header assembly and a rapid- heat combustion chamber
Easy-to-read L.E.D Control Panel provides digital temperature readout and diagnostics for quick identification of components that might need service
Exclusive CPVC plumping kit allows for maximum plumbing versatility
This heater is only available in 150,000 BTU or 250,000 BTU which are ideal for pools with a surface area of 450 sq. ft and 750 sq. ft respectively.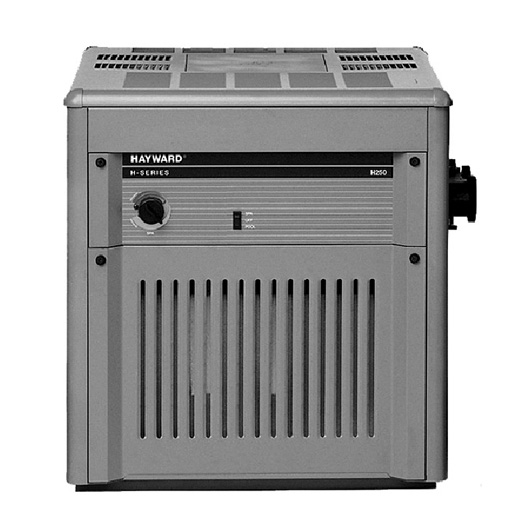 Millivolt Heater – Natural Gas Models
Although designed for budget- conscious applications, Hayward H-Series Millivolt heaters deliver uncompromising performance and economy. A standing pilot ignition system ensures reliable lighting, and- like all H-Series Heaters- they feature a Cupro Nickel heat exchanger and Fire Tile combustion chamber.