Chlorine & Bromine Feeders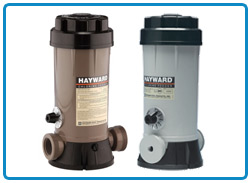 Features:
Easy-Lok Cover Assembly- has thread assist mechanism to provide dependable sealing plus convenient access for adding tablets or sticks.
Extra Large Chamber Capacity- to meet the needs of all sizes and types of pools. The corrosion proof, versatile design accommodates large or small slow-dissolving tablets or sticks.
Dial Regulating Valve- is easy to use and lets you control and adjust the rate of feed for your pool's variable requirements and chlorine demand.
Feeder Tube- provides controlled outlet flow of highly concentrated chlorinated water plus serves as an auto air relief to expel entrapped air from the chlorine chamber.
Versatility- for new or existing pools. Choose either an in-line or off-line unit to suit your pool system.
Technical Specifications
In-Line Chlorinators- Chlorine Application (Using Stabilized Chlorine Tablets)
| | | | | |
| --- | --- | --- | --- | --- |
| Model Number | Water Capacity | Chemical Capacity | Feeder Width | Feeder Height |
| CL100EF | Up to 40,000L | 4.2 lbs. | 8 1/4″ | 15 1/4″ |
| CL200EF | Up to 100,000L | 9 lbs. | 9″ | 14 3/4″ |
*We Suggest a Hayward Union Connector (Item# SP1500UNMPAK1) for connection of this product to sand filter*
Off-Line Chlorinators (Using Stabilized Chlorine Tablets)
Offline Chlorinators are Recommended for Pools with Existing Heaters
| | | | | |
| --- | --- | --- | --- | --- |
| Model Number | Water Capacity | Chemical Capacity | Feeder Width | Feeder Height |
| CL110EF | Up to 40,000L | 4.2 lbs. | 6 3/4″ | 13″ |
| CL220EF | Up to 100,000L | 9 lbs. | 8 1/4″ | 15 1/2″ |
| C250EXP | Up to 200,000L | 16 lbs. | 10 1/2″ | 17 1/2″ |
Off-line Brominators- (Using Bromine Tablets)
Bromine Requires a Larger Canister to Accommodate Faster Dissolving Rates
| | | | | |
| --- | --- | --- | --- | --- |
| Model Number | Water Capacity | Chemical Capacity | Feeder Width | Feeder Height |
| CL220EF | Up to 40,000L | 9 lbs. | 8 1/4″ | 15 1/2″ |
| C250EXP | Up to 75,000L | 16 lbs. | 10 1/2″ | 17 1/2″ |
| C500EXP | Up to 150,000L | 30 lbs. | 10 1/2″ | 27 1/2″ |
*Item CL110EF/CL220EF require a 3/8″ drill bit for self-installations
*C250EXP/C500EXP require 3/4″ plumbing for hook-up