Dolphin Edge

Cartridge Filtration

Basic Remote Included
Dolphin DX6

Large Debris Filter Bag

Pro Remote Included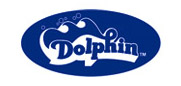 Dolphin Edge With Caddy and Basic Remote by Maytronics
The Dolphin Edge is brand new to our robotic cleaner line-up this season. With many of the features found in the DX6, the Edge slides nicely into our 'Smarter' auto cleaner line-up. Equipped with Dolphin's state-of-the-art advanced scanning program, the Edge is sure to cover your entire pool, from the floors to the waterline, in its efficient 2.5 hour cleaning time. If you're on-the-go or expecting company and are looking for a speedy clean, the Edge provides a 1-Hour Quick Clean cycle to speed things up – or use your BONUS Basic Remote to manually clean any trouble spots. With its dual motors and split brush system, the Edge has all the strength you need and turns on a dime for powerful scrubbing power and maximum coverage. The Edge utilizes a large self-contained inner filter cartridge to collect dirt, debris and even dust particles. When the cartridge is full on heavier cleaning days, the Edge will let you know via an indicator light so that you can clean out the filter to ensure maximum cleaning power and efficiency.
Dolphin Edge
Recommended for Pools up to 50 feet
Scrubs the pool floor, walls, and the waterline
Perfect for pools up to 20' x 40'
Split brush system for enhanced maneuverability
Large inner filter cartridge to catch dirt and debris
2.5-Hour cycle option
1-Hour quick clean cycle option
Weekly timer to preset cleaning times throughout the week
Full filter cartridge indicator
60' Swivel cable to prevent tangling
BONUS: Basic Remote controls


Scanning
Advanced robotic scanning ensures complete pool coverage


Power Supply
Digital power supply with LED full cartridge indicator light

Dual Motor
Dual drive motors for incredible maneuverability

Waterline Cleaning
Floor, wall, and waterline cleaning


Filtration
Filters the water while it cleans with an all-surface climbing brush


Caddy
Caddy Included

Swivel
Patented swivel helps prevent cable tangling

DIY Technology
Dealer repairable in 20 minutes or less
Dolphin Edge Specifications
| | |
| --- | --- |
| Cycle time | 1 hour, 2.5 hours |
| Cable length | 60 ft |
| Pool size capability | 20ft x 50ft |
| Filter bag porosity | Fine porosity |
| Suction rate | 70 gal/min |
| Unit weight | 22 lbs |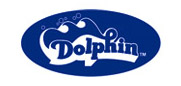 Dolphin DX6 With Caddy and Remote by Maytronics
The Dolphin DX6 is our Cadillac of robotic cleaners. The folks at Maytronics have added specialty features based on industry needs and homeowner requests! By introducing a state-of-the-art advanced scanning program, it is the mission of the DX6 to be the most efficient at optimal pool coverage. The DX6 features dual motors for more flexible and precise performance and scrubbing as well as a remote control feature to allow you to drive it to problem areas of the pool if required. Due to the different designs of pools and cleaning needs, the DX6 allows you to override it's total cleaning program and just focus on the pool floor or water line only for specialty or quick cleaning.This gives the homeowner complete control over how long the cleaner runs for making it one of the most energy efficient cleaners available!
The DX6 utilizes a large self-contained inner filter bag to collect dirt, debris and even dust particles. When the bag is full on heavier cleaning days, the Dolphin DX6 will let you know via an indicator light giving you the opportunity to either empty the existing bag or replace it with an optional secondary bag. These filter bags are simply turned inside out and rinsed between cycles and can also be placed in your washing machine for a thorough cleaning.


Scanning
Advanced robotic scanning ensures complete pool coverage


Power Supply
Digital power supply with LED full bag indicator light

Dual Motor
Dual drive motors for incredible maneuverability

Waterline Cleaning
Floor, wall, and waterline cleaning


Filtration
Filters the water while it cleans with an all-surface climbing brush


Caddy
Caddy Included

Swivel
Patented swivel helps prevent cable tangling

DIY Technology
Dealer repairable in 20 minutes or less
Dolphin DX6 Specifications
| | |
| --- | --- |
| Cycle time | 2, 3, or 4 hours |
| Delayed start time options | 1 hour or 2 hours |
| Cable length | 60 ft |
| Pool size capability | 20ft x 50ft |
| Filter bag porosity | Fine porosity |
| Suction rate | 70 gal/min |
| Unit weight | 24.25 lbs |
| Motor unit voltage | 115 VAC Input    24VDC/3.5 amps |
More Robotic Auto Cleaner Selections: