We are Ontario's largest Maytronics dealer!
Robotic cleaners run 100% independently from your existing filtration system which not only reduces stress on your pool pump, but allows you the option of shutting off your filtration system while it's cleaning. Utilizing their on-board computers, robotic cleaners are programmed to calculate the size of your pool in order to determine the most efficient cleaning pattern every time you use them.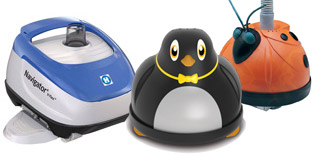 Suction pool cleaners are the most popular type of pool vacuum cleaner on the market due to price and availability. In most cases, it hooks up to your suction line via your pool's skimmer. Suction cleaners work on the same premise as manual vacuums by drawing debris into the filter. Suction cleaners are often random and do take anywhere from 4-6 hours to clean 85-90% of the pool depending on the size of the pool.