PRODUCT CODE: 7132900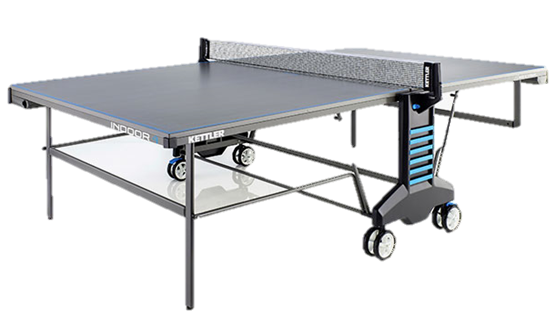 The Indoor 4 has a one hand locking mechanism, innovative bat and ball storage and 19mm specially coated wooden board.
Features:
¾" wooden composite top with medium density rating & finished on the bottom
Certified true tournament bounce for unmatched quality & performance
Laminate outer edges are protected & supported by a 1 ¼" tubular steel apron designed to resist warping
True play-back feature for warm-up or solo play; has no wide gap for ball to drop in
UV ray, scratch & fade resistant, specially coated with anthracite Grey anti-dazzle surface
Features smooth silk-screened blue regulation lines
Frame includes adjustable 1" oval steel legs & extra-large 5.5" dual swivelling wheels with rubber tread; 2 wheels feature integrated locking system
Permanent adjustable net & durable resin net-posts
Ballbox on each side easily refillable, allowing for continuous play
Elastic band storage under each net post- stores paddles, bags, etc.
Space-Saver technology for compact storage & low centre of gravity for easy transport
Patented Safety-Fold® with Dual Lock Safety engages when the table is in playing & folded storage position, preventing unintended opening & accidentally closing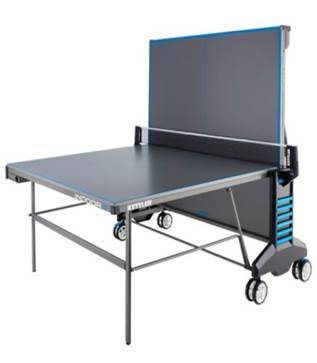 KETTLER indoor table tennis tables / ping pong tables are suitable only for use in rooms where the temperature is constant and the atmosphere dry. Garages and outbuildings, which are not heated, may be unsuitable for an indoor table and if there is any doubt an outdoor table should be recommended.
Includes Deluxe 4-Player Table Tennis Kit! $50 Value!