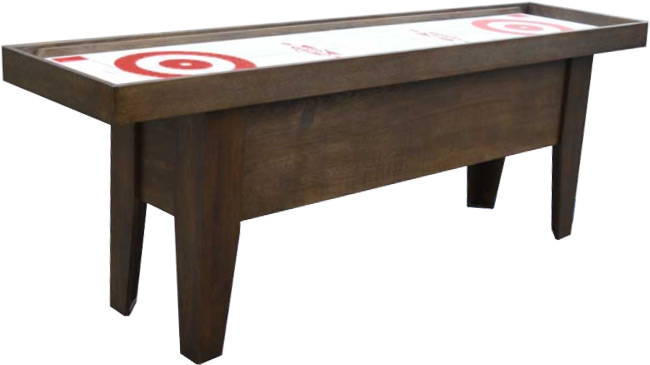 The Premiere ten-foot table game is our deluxe model which offers a clean, ice cool look and is sought after to complement many game rooms and curling club lounges. It features a beautifully stained solid oak frame and is available in traditional mahogany with red graphics or black with black/grey graphics.
The solid hardwood frame makes it an elegant option for high end rooms and durable for frequent play venues. This is the full bells and whistles model which also includes a deluxe fitted cover and finish coordinating wood-framed scoreboard. With that special look and feel that matches the ambiance of the game, it is truly an experience to be had.
This will be the new hit of the season with your family and friends!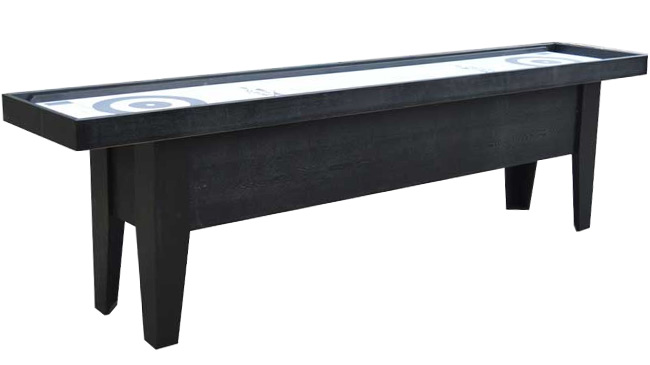 The Premiere, in Black
Dimensions: 122" L x 23.5" W x 34.25"H
8 black and 8 silver cool curling rocks
Dry erase wood-framed scoreboard
Bottle of table wax & can of pebbles
Vinyl table cover
Table top curl precisely matches the rock movement of curling on ice
Game board is coated with a durable polymer laminate surface
Mounted under the game board are a series of brackets which allow players to easily adjust the amount of curl along the length of the table
Also available in 8'