PRODUCT CODE: 12302MD
This High Roller 14g poker chip set was designed for the high stakes players. The default chip count above reflects the correct amount of chips needed for a high stakes tournament. However, you may change them according to your preference. Chips are perfectly rounded. All chips have values on both sides. 500 piece sets are good for 7 to 8 players.
Improve your home games with these professional 14g casino size clay poker chips.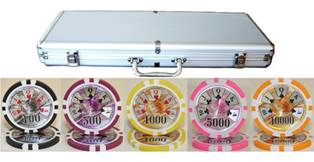 Features
Black 200 chips – $100, Red 150 chips – $500, Yellow 100 chips – $1000, Pink 35 chips -$5000 and Orange 15 chips – $10 000
Set includes 1 aluminum case (holds 500 chips)
Set includes 2 deck of playing cards
Set includes 5 red casino dice
Set includes 1 dealer button
14g casino grade
High Roller w/ Dollar Image design