Greater Hamilton's Largest In-Store Dart Selection!
Winmau Blade 4 Dual Core Dartboard
PRODUCT CODE: 15155
Lower compression at the outer core reduces surface resistance and increases point penetration
Higher compression at the inner core increases resistance below the surface, improving durability
Pioneering new staple-free wiring system for best-in-class performance
50% thinner Dynamic Sector Wire for reduced bounce-outs and maximum scoring potential
Diameter: 18″
Winmau Blade 4 Dartboard
PRODUCT CODE: 15153
Our best seller!
Professional-Level Staple Free Dartboard
50% Thinner Dynamic Sector Wire for Reduced Bounce Outs
Triangular Wiring Deflect Darts into Target Area for Maximum Scoring Potential
Super-Dense, High-Visibility African Sisal Offers Ultimate Durability
High-Tensile Steel Wiring Maximizes Scoring and Longevity
Diameter: 18"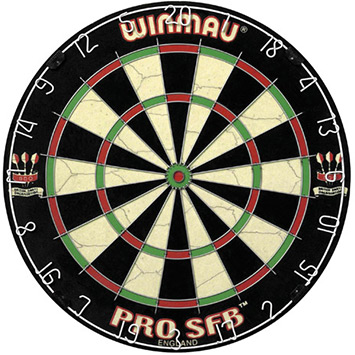 Winmau Pro SFB Dartboard
PRODUCT CODE: 14018
Entry level, premium bristle dartboard
Galvanized, steel round-wire and Cliple II™ system
Tournament approved, complies with World Darts Federation specifications
CNC precision made staple-free bullseye
Quality construction super dense sisal base built to last
Diameter: 18"
Winmau Dual Core Champions Choice Dartboard
PRODUCT CODE: 15156
Practice board with 50% thinner doubles, triples and bullseye.
Made from African Sisal
Combining all the very best elements of Winmau's dartboard technology, the Blade Champions Choice is specifically designed with narrower doubles and trebles to facilitate accurate practice by Champion players and those with a desire to constantly improve their game.
Diameter: 18"
Swiftflyte 180 Dartboard
PRODUCT CODE: 151636
Entry level board.
Millions of tough sisal fibres tightly packed which automatically spring apart to receive the dart and close on withdrawal
Staple free bullseye
Hand wired spider using high tensile round wire
Strong steel band, holding high compacted fibres together
Rotatable number ring for longer board life
Diameter: 18″
Budweiser Dartboard
PRODUCT CODE: 14005
Tournament Quality Dartboard
Staple free Bulls Eye
Self-healing Sisal Fibres for durability
The Budweiser Premium Bristle dartboard is made of African sisal on British standards for quality; The Budweiser logo is silk screened with a 3 colour combination; The strong wiring system makes this board truly professional for years of fantastic play
Diameter: 18"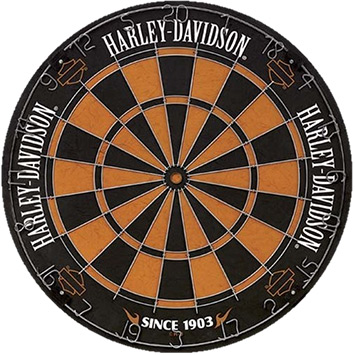 Traditional Harley-Davidson® Dartboard
PRODUCT CODE: 14007
Premium Tournament Quality Bristle Dartboard
Traditional Harley-Davidson® colours
Staple Free Bulls-eye
This Traditional Bristle Dartboard is made to exacting English standards for quality and is constructed from millions of the finest African sisal fibres for self-healing durability.
Diameter: 18"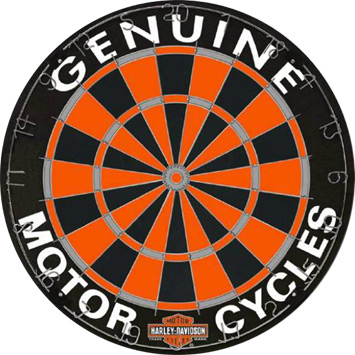 Competition Harley-Davidson® Dartboard
PRODUCT CODE: 14008
The Harley-Davidson Competition Bristle Dartboard is made of millions of sisal fibres, for self-healing durability, and has a network of steel wires to separate the numbers.
The Competition dartboard includes a staple free bulls-eye allowing for fewer bounce-outs and higher scoring darts.
Diameter: 18"
Harley-Davidson® Skull Dartboard
PRODUCT CODE: 500010
Stylized Skull Design
Staple Free Bulls-eye
Made from African Sisal
Diameter: 18"
Winmau Blade 5 Dartboard
PRODUCT CODE: 15157
The wiring system allows for 9mm² extra scoring areas in the doubles and 6mm² extra scoring area in the trebles, with a 14% reduction in web surface area for higher scoring.
The dynamic sector wires are 20% thinner and the radial wires are 10% thinner for greater scoring potential.
The Blade angle has been reduced from 90 degrees inclusive to 60 degrees inclusive, and the ultimate tensile strength of the dynamic sector wire has been increased by 20% to ensure that dart points glide past the wire and into the scoring bed.
A new bullseye and 25 ring feature carbon diffusion technology for an ultra-hard surface and improved performance and durability.
The Blade 5 now includes the rota-Lock triple-wheel lock and level system for a secure fit and easy rotation.
Winmau Blade 5 Dual Core Dartboard
PRODUCT CODE: 15158
Blade 5 Dual Core
Lower compression at the outer core increases point penetration for fewer lost darts and higher scores
Higher compression at the inner core increases resistance below the surface, absorbing excess kinetic energy for improved durability
The uniform density on the outer core and the high visibility playing surface increases scoring potential and provides perfect vision.
Includes all the new features of the Blade 5
New wiring system allows for 9mm² extra scoring area in the doubles and 6mm² extra scoring area in the trebles, with a 14% reduction in web surface area for less bounce outs and higher scoring
20% thinner Dynamic Sector Wires and 10% thinner Radial Wires for higher scoring potential. The Blade angle has been reduced from 90 degrees inclusive to 60 degrees inclusive, and the Ultimate Tensile Strength of the Dynamic Sector Wire has been increased by 20% to ensure that dart points glide past the wire and into the scoring bed
New bullseye and 25 ring feature carbon diffusion technology for an ultra-hard surface, allowing dart points to glide past the angled rings into the board for improved performance and durability.
Rota-Lock triple-wheel lock and level system allows for a secure fit and easy rotation
Vtooth 1000 Dartboard
PRODUCT CODE: 421055
15" Electronic dartboard
For soft tip darts (included)
Bluetooth enabled which allows you to automatically keep score when paired with the mobile app
Tournament quality thermal resin segments provide an exceptionally durable playing surface built-in storage holds 2 sets of darts and extra dart points
Ultra-thin spider greatly reduces bounce outs, allowing for closer dart groupings to maximize scoring; Accommodates up to 4 players
Bright LCD display delivers a crisp, clear view of scoring and statistics, eliminating manual scorekeeping; stylish colour scheme showcases red, blue, white and black