We are pleased to present the brand new Upright Multicade game system!
This upright version of the Multicade game provides you with the traditional feel of your favourite classic video games! The upright Multicade system has all of your favourites, including Pac-Man, Frogger, Donkey Kong, and so much more! Escape the Pac-Man ghosts or take a stand against the Galaga swarms – there's endless choices for endless fun!
High quality LG 19″ LCD screen!
External volume control!
Joystick AND trackball controls!
Joystick, Buttons and Trackball Light up!
Scratch and crack resistant tempered glass!
Dimensions: 25" W x 29 ½" D x 70 ½" H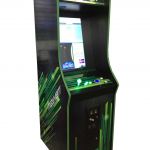 These arcade games are authentic in every detail:
Ms. Pac-Man
Ms. Pac-Man (speedup)
Ms. Pac-man Plus
Galaga
Frogger
Frogger
Donkey Kong
008. Crazy Kong
Donkey Kong Junior
Donkey Kong 3
Galaxian
Galaxian Part X
Galaxian turbo
Dig Dug
Crush Roller
Mr. Do!
Space Invaders Part II
Super Invaders (EMAG)
Return of the Invaders
Super Space Invaders '91
Pac-Man
Puckman
Puckman (speedup)
New Puck-X
Newpuc2
Galaga 3
Gyruss
Tank Battalion
1942
Lady Bug
Burger Time
Mappy
Centipede
Millipede
Jr. Pac-Man
Pengo
Son of Phoenix
Time Pilot
Super Cobra
Video Hustler
Space Panic
Space Panic (harder)
Super Breakout
Arkanoid
Super Qix
Juno First
Xevious
Mr. Do's Castle
Moon Cresta
Pinball Action
Scramble
Super Pac-Man
Bomb Jack
Shoa-Lin's Road
King & Balloon
1943
Van-Van Car
Pac-Man Plus
Pac & Pal
Dig Dug II
Amidar
Zaxxon
Super Zaxxon
Pooyan
Pleiads
Gun. Smoke
the End
1943 Kai
Congo Bongo
Jumping Jack
Big Kong
Bongo
Gaplus
Ms. Pac Attack
Abscam
Ajax
Ali Baba and 40 Thieves
Finalizer-Super Transformantion
Arabian
Amrmored Car
Astro Blaster
Astro fighter
Astro Invader
Battle Lane!
Battle-Road, The
Beastie Feastie
Bio Attack
Black Hole
Blue Print
Bump ' n ' Jump
cavelon
Cheeky Mouse
Circus Charlie
Commando
Darwin 4078
Defend the Terra Attack – UFO
Devil Fish
Devil Zone
Dingo
Disco No. 1
Dock Man
Dog Fight (Thunderbolt)
Dommy
Dorodon
Dr. Micro
Dr. Toppel's Adventure
Dream Shopper
Eagle
Eggor
Eight Ball Action
Enigma 2
Exciting Soccer
Exerion
Eyes
Labyrinth Runner
Fighting Roller
Fire Battle
Fire Trap
Fly-Boy
Free Kick
Funky Bee
Funky Fish
Funny Mouse
Future Spy
Galaxy Wars
Gardia
Ghostmuncher Galaxian
Go Go Mr. Yamagucki
Gorkans
Grobda
Guzzler
Gyrodine
Hangly-Man
Hero in the Castle of Doom
High Way Race
Hoccer
hopper Robo
Intrepid
Jack the Giantkiller
Joinem
Jolly Jogger
Joyman
Jump Coaster
Jungler
Crazy Rally
Kangaroo
Kaos
Kicker
Korosuke Roller
Lasso
Lock'n'Chase
Loco-Motion
Looping
Lunar Rescue
Mad Alien
VS Gong Fight
800 Fathoms
Mighty Guy
Mighty Monkey
Mikie
Minky Monkey
Mission 660
Mister Viking
Money Money
Monkey Donkey
Monster Bash
Moon Alien
Moon Alien Part 2
Moonwar
Motos
Mouser
Mr. Jong
Mr. Kougar
Mr. TNT
Mysterious Stones
Naughty Boy
Naughty Mouse
Navarone
Net Wars
New Sinbad 7
Wild Western
Nibbler
Ninja Emaki
Jackal
Gomoku narabe Renju
Nunchackun
Oli-Boo_chu
Ozma Wars
Pandora's Palace
Strata Bowling
Percussor, The
Performan
phozon
Pickin'
Pinbo
Piranha
Pisces
Pit, The
Polaris
Pop Flamer
Popper
Power Surge
Pro Baseball Skill Tryout
City Bomber
Rafflesia
Regulus
Road Fighter
Roc'n Rope
Round-Up
Rug Rats
S.R.D.S.R.D. S.R.D. Mission
SWAT
Samurai Nihon-ichi
Satan of Saturn
Saturn
Bagman
Scrambled Egg
Senjyo
Shot Rider
Sindbad Mystery
Sky Base
Seicross
Space King 2
Space Firebird
Space Force
Space pilot
Space Raider
Space Thunderbird
Speak & Rescue
Speed Ball
Springer
Star Force
Star Jacker
Stinger
Super Bagman
Super Basketball
Super Doubles Tennis
Super Galaxians
Super Mouse
Gigas
Swarm
Syusse Oozumou
Tactician
Slither
Top Roller
Tower of Druaga
Traverse USA
Triple Punch
Turpin
Tutankham
UniWar S
Vastar
Vulgus
Wanted
Warp & Warp
Water Ski
Wiping
Wiz
Woodpecker
Yamato
Omega Fighter Special
Zig Zag
Cutie Q
Zodiack
Zzyzzyxx
Anteater
Blades of Steel
Bomb Bee
Turbo Force
Kuhga
Thundercade/Twin Formation
Devastators
Aero Fighters
Sonic Wings
Tetris(1P)
Truxton/Tatsujin
Out Zone
Lingting Fighters
Super Contra
Rally Bike
Gang Bustersv
Mercs
Time Scanner
Varth – Operation Thunderstorm
Argus
Image Fight
Youma Ninpou Chou
Blast Off
Galaga (fast shoot)
Truxton II/Tatsujin II
Mahou Daisakusen
Zing Zing Zip
Armed Formation
Commando
Dragon Spirit
Gemini Wing
Sky Soldiers
TNK III
Terra Cresta
Air Duel
Blazer
Quester
Caliber 50
DownTown
Dyger
Tiger Heli
Slap Fight (Japan)
Slap Fight (english)
Ikari Warriors
Ashura Blaster
Master of Weapon
Gun & Frontier
Fighting Hawk
Twin Cobra
Flying Shark
Time Soldiers
Battlantis
The Hustler
War of Aero
Galaga '88
Assault
Dragon Saber
Cosmo Gang the Video
Sky Fox
SAR – Search And Rescue
Tail to Nose – Great Championship
Super Formula
Final Star Force
Galaga '84
Dangar – Ufo Robo
Last Duel
Mad Gear
Alley Master
Legendary Wings
Wrestle War
Block Block
Rompers
Bowl-0-Rama
Twin Eagles
Victory Road
Extermination
Plus Alpha
Blells & Whistles
Kageki
1941 – Counter Attack
Alpine Sky
APB – All Points Bulletin
Carnival
Electric Yo-Yo, The
fastfred
Front Line
Green Beret
Guerrilla War
Journey (1P)
Joust 2
Karate Champ
Kick
Krull
Lost Tomb (easy)
Up'n Down
Mad Planets
Mega Zone
Phoenix
Q*bert
Q*bert's Qubes
Qix
Qix 2
Ring King
Satan's Hollow
Sinistar
Solar Fox
Space Dungeon
Space Invaders
Speed Rumbler, The
Tac/Scan
Tag Team Wrestling
Tempest
19XX: The War Against Destiny
Time Pilot '84
Toobin'
Tournament Arkanoid
Tron
Colony 7
Bull Fighter
Evil Stone
Trick Trap
Arkanoid – Revenge of DOH
Gorf
Arbalester
1945k III
DonPachi
DoDonPachi
Dimahoo
Guwange
Battle Bakraid
Dangun Feveron
ESP Ra. De.
Spiders
Raiden