New to our line-up of classic arcade games is the Cocktail Multicade game system!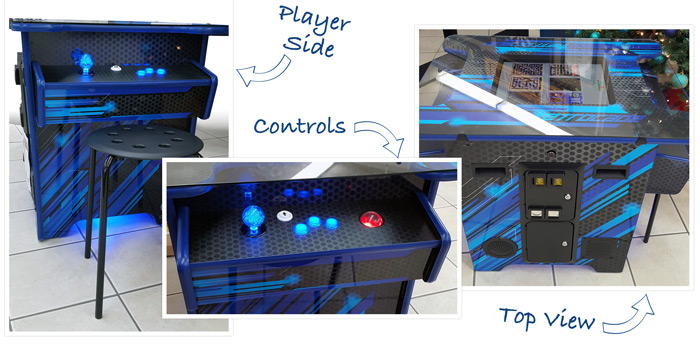 This compact, tabletop wonder contains 60 of your favourite games, including Pac-Man, Frogger, and Donkey Kong. Pull up a chair and transport yourself back to the good ol' days! Play on your own or compete with a friend, the options are limitless!
High quality LG 19″ LCD screen!
External volume control!
Joystick AND trackball controls!
Joystick, Buttons and Trackball Light up!
Scratch and crack resistant tempered glass!
Dimensions: 25 ¾" W x 35" D x 29" H
These arcade games are authentic in every detail:
Ms. Pacman
Galaga
Frogger
Donkey Kong
Donkey Kong Jr
Donkey Kong 3
Galaxian
Dig Dug
Crush Roller
Mr Do
Space Invaders
Pacman
Galaga 3
Gyruss
Tank Battalion
1942
Lady Bug
Burger Time
Mappy
Centipede
Juno First
Xevious
Mr. Do's Castle
Pinball Action
Pooyan
Pleiads
Gun Smoke
The End
Ms. Pacman (2)
Galaga (2)
1943
King & Ballon
Van Van Car
Pacman Plus
Dig Dug 2
Amidar
Zaxxon
Millipede
Jr Pacman
Pengo
Phoenix
Time Pilot
Super Cobra
Hustler
Space Panic
Shao-Lin's Road
Moon Cresta
Super Breakout
New Rally X
Arkaniod
Qix
Scramble
Super Pacman
Bomb Jack
1943 Kai
Congo Bongo
Jumping Jack
Pacman Plus (2)
Pacman (2)
Jr. Pacman (2)