HAMILTON (Ontario), August 23, 2017 – Olhausen Billiard Manufacturing, Inc., best known for their billiard and shuffleboard tables, have recently announced that The Pool Shoppe is now their largest dealer in Canada.
The Pool Shoppe has been a proud Olhausen dealer for over 25 years. Olhausen's billiard and shuffleboard tables are handcrafted with careful precision and accuracy. Along with its superior quality construction, Olhausen allows you to add your family's name, and brand your table to create a perfect family heirloom.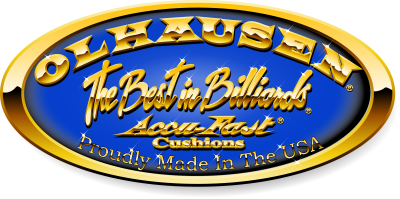 "It's been a great year for us and we're very proud of our longstanding relationship with the Olhausen Family" says Dana Simpson, General Manager of Retail Operations for The Pool Shoppe. "Not only has Olhausen earned the reputation for being 'the best in billiards', but they also support their workmanship with a lifetime warranty. We are proud of these products and they allow our clients to create the games room of their dreams."
"Olhausen Billiards couldn't be happier with The Pool Shoppe!" says Colby Olhausen. "Not only are they our largest Canadian dealer, they are a family business who shares Olhausen's values in hard work and honest business practices. My Father Donny Olhausen and I feel The Pool Shoppe is an asset to our business and their community."
About Olhausen Billiard Manufacturing, Inc.
Olhausen Billiard Manufacturing, Inc. is one of the largest pool table manufacturers in the world, shipping thousands of tables all over the globe each year. They have a 250,000-square-foot facility in Portland, Tennessee. Olhausen's Accu-Fast cushions for billiard tables are made from 100% pure gum rubber with proprietary chemicals and pigments to increase accuracy and produce consistent play.
About The Pool Shoppe
The Pool Shoppe has been family owned and operated for 45 years providing quality products and services to Hamilton and surrounding areas. In addition to their quality swimming pool, hot tub and game room product lines they carry, they also operate a large service business serving the Ancaster, Burlington, Caledonia, Dundas, Hamilton, Mount Hope, Stoney Creek, Waterdown, Binbrook, Smithville, Brantford, Grimsby and Beamsville areas. Their service fleet of 20 trucks, Ontario's largest, assures prompt response to customers' needs during the peak season. Service specialties include swimming pool openings and closings, liner and coping replacement, product set-up and installation and pool chemical maintenance. The Pool Shoppe is conveniently located at 1333 Rymal Road East in Hamilton, and is open 7 days a week, year round.